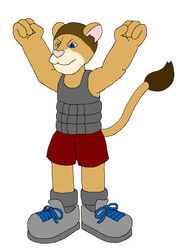 Curtis Leon is the former archenemy of Ricky the Lion. He is somewhat similar-looking to his foe, only he is bigger, more muscular, is heterochromatic (as he has a hazel right eye and a blue left eye), and has shorter hair. His outfit consists of a gray athletic tank top, red shorts, gray socks, and lighter gray sneakers with blue lace.
His goal, back when he was wicked, was to make Rae the Lioness his girlfriend so nobody could be with her but himself, nor could she be with anyone but him. He discriminated against interspecies coupling, as he scorned Heath Lynx for his idea of Rae being his just because she is a lioness and he is a lynx. Curtis is so muscular that he can knock out teeth out of a victim with one punch. In fact, he formerly did this to anyone he sees near Rae for any reason, stole it, and got money by an unknown cause. Besides such violence, he reviled his victims.
Background
Curtis was born as a big, strong, cub to unknown parents, and he had been orphaned by his Aunt Winnie, who had secretly poisoned his parents. She then took him away and forced him into hard labor throughout his life. And anytime he was tired or made any flaws in her biddings, she beat him up, kicked him, and threw things at him, even as he grew up.
When Curtis had repented and apologized to Ricky, he had met a tigress college student named Arachne Richards. In fact, he eventually married her, but on the way back from their honeymoon, the couple died in a plane crash.