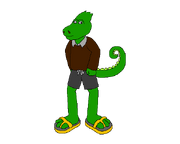 Phil Evans is a chameleon character. In order not to blend any of his clothes with his skin, his clothes are always brown, gray, gold, and/or black. He wears a gray collared shirt under a brown sweater, a gray swimsuit with white string, and gold flip-flops with gray inner soles. Only when his mood is normal is he green. Otherwise, he is blue (literally) when he is sad, red when he is angry, yellow when he is happy, pink when he is embarrassed, white when he is scared, purple when he is tired, and a scattered mix when he is confused.
His last name was closest to being similar to the word, "evolution" because he is an animal that changes colors.
Community content is available under
CC-BY-SA
unless otherwise noted.